How to Make Fire or Flames with GIMP:
This is what we will be making: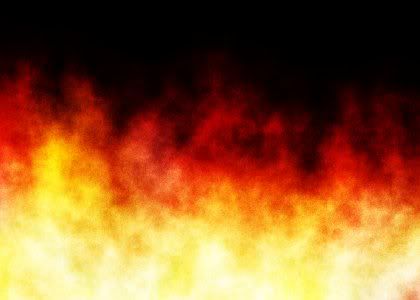 Step 1: Open up a new canvas. Make it any size you want. Mine is 400×300.
Step 2: Fill canvas with black and make a new transparent layer.
Step 3: The fire will be made with 3 colors, red, yellow, and white. With your red color the basic shape of the fire, Similar to below.

Step 4: With your yellow brush make the second layer, make sure there is still red showing. See below.
Step 5: Repeat, now with white. Once your done with the red white and yellow, it should look similar to the screen below.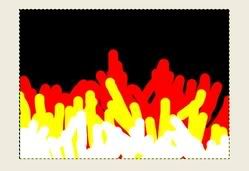 Step 6: The fire looks like it has been done by a 3-year-old. Now you will need to add a gaussian blur(Filters–>Blur–>Gaussian Blur). Set Vert and Horiz to 100. It should look similar to the image below.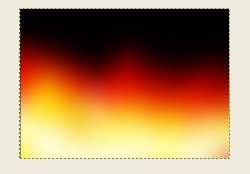 Step 7: It looks alright but still doesn't look realistic. Now make a new transparent layer and goto Filters–>Render–>Clouds–>Solid Noise. See the settings similar to below. X-Value=13 Y-Value=7
Step 7: Duplicate the layer with the clouds.
It should look like this by now;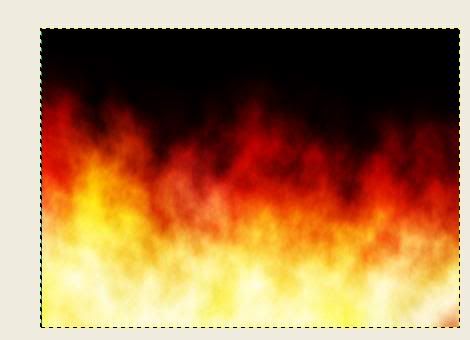 Step 8: Now create a new transparent layer. And goto Filters–>Render–>Clouds–>Plasma. Turbulance=5
Step 9: And now goto Layers–>Colors–>Desaturate. And then set both cloud layers options to Overlay.
IF you want a little more random movement on the fire you can just goto filters–>distort–>IWarp. And play around with it.
All done!